Everyone is talking about resolutions this time of year. But we don't sell resolutions - we sell basketball goals. To be fair, we call them Mini Basketball Hoops but that doesn't fit with the resolution theme.
What's your goal for you and/or your kids this year? More video games or screen time on the couch? Or do want to have some fun on your own indoor court? We hear endless stories about families and friends making memories playing hoops. CJ recently sent us this comment in an email:
I just wanted to reach out and say that I have a "justintyme" mini basketball hoop that my dad purchased for me when I was a teenager. I am now 30 and brought it to my house in the basement. I use it all the time and it's still going strong. When my buddies from high school come over, we still play and bring back memories. Just wanted to reach out and a give a shout out to your product and company. Great product! CJ
By the way, we sell more than just Mini Basketball Hoops. We also sell Wall Pads, Mini Basketballs, Nets, and more. Lisa left us the following review after installing a hoop and wall pads in their basement. Notice the advice Lisa received from a friend who knows about kids who Dream Big and Play Hard.
We purchased the Mini Pro Ultimate Hoop set, mini basketballs, and 3 wall pads for our basement. We could not be happier! The products came in a timely manner, and the quality was first class. The rim and backboard are very sturdy and durable. We purchased the wall pads after a friend of ours showed us the pictures of his drywall with a huge hole in it after his boys slammed into it! A friend detailed it for us. Would definitely recommend purchasing any of these products! - Lisa H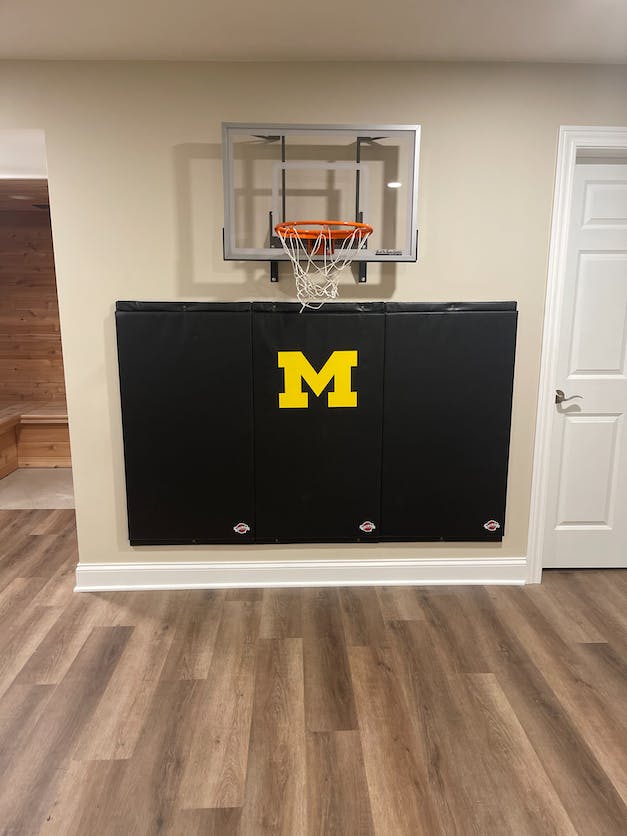 If you would like to find the right hoop/goal for your court, see Choosing A Mini Basketball Hoop for more details.